CONVERTED SHIPPING CONTAINERS FOR EVENTS
Our event containers can be modified to fit your unique needs and create a user experience that will be hard to forget.
Custom options include a rooftop deck, giant screens, display cases, bespoke fitouts, and much more. The ultimate solution for a complex tour, easy to pack, move and transport to the next location.
USES FOR EVENT CONTAINERS
We might work with boxes but we like to think outside of them.
We create container solutions whatever the setting, from fairgrounds, coffee shops, and food fairs to ice rinks and outdoor volleyball tournaments, we are happy to hear your wildest ideas and flex our creative container craft.
Bars and Kitchens
Food and beverage solutions are perfect for containers, secure, safe and easy to brand.
VIP Spaces
More than a tent or a couple of sofas - separate yourselves in style, with a statement.
Brand Experiences
The ultimate solution for a complex tour, easy to pack, move and transport to the next location.
Rooftop Deck
Need an elevated view for a DJ Booth or a racetrack? Use a container to see the masses.
Commentary Boxes
With a glass front these 'all-seeing' boxes are a perfect solution for your commentary team.
Information Booths
Offer effective support at any event with a secure and weather resistant 10ft booth.
Site Buildings
Offices and storage are often required on major sites - why not use a customised container?
Exhibition Spaces
As display cases containers are simple to install, safe as a vault and uniquely creative.
Giant Screens
Take it outside, put a huge open air display inside or on top of a container for max impact.
RECENT PROJECTS - event containers
DARE - Iced Coffee (event container for new campaign)
Repurposing the DARE - Iced Coffee Container and creating a new experience with themed coffee Vats, a new rooftop deck and custom fridge surrounds ensured a hit with their new sampling campaign.
PROJECT BRIEF
Take the existing container and add a rooftop deck, 3 fridges and servery, and some themed elements to give the sampling campaign a real hero piece.
OUR SOLUTION
Full engineering documentation was required for the rooftop deck, and a smart solution for being able to have this all collapsible into the container as a touring solution. The Unit does not need another truck space to be able to tour the country and can be ready to operate in less than 4 hrs!
FEATURES
Customised rooftop deck - packs away into the container

Bespoke cabinetry and lighting.

Refit of the electrical and refrigeration.

Branding and signage

Themed Coffee brewing vats and counters

Full engineering compliancy.
PROJECT SPECS
Budget: N/A

Size: 20ft unit + Rooftop Deck

Delivery date: April 15th 2018.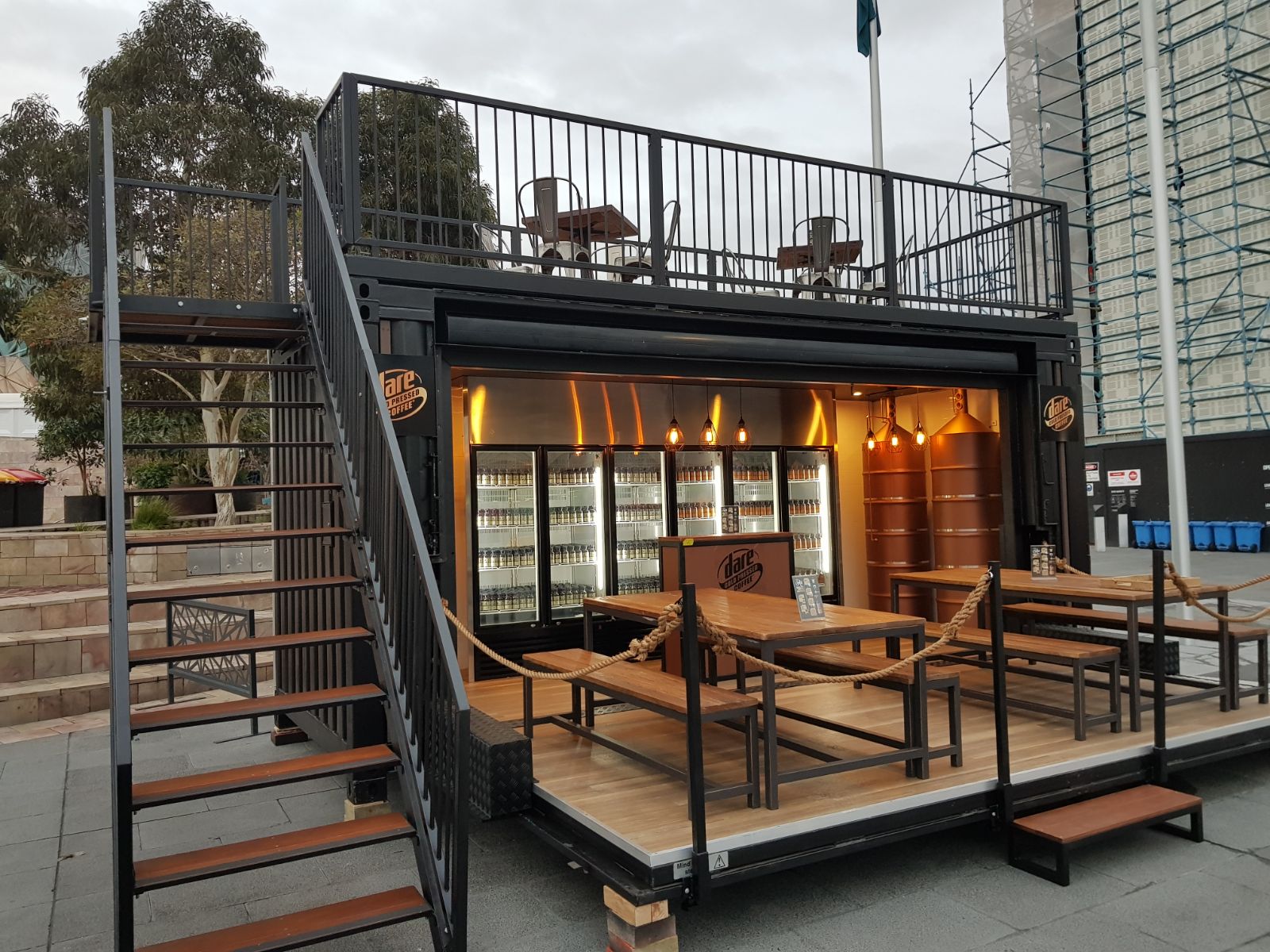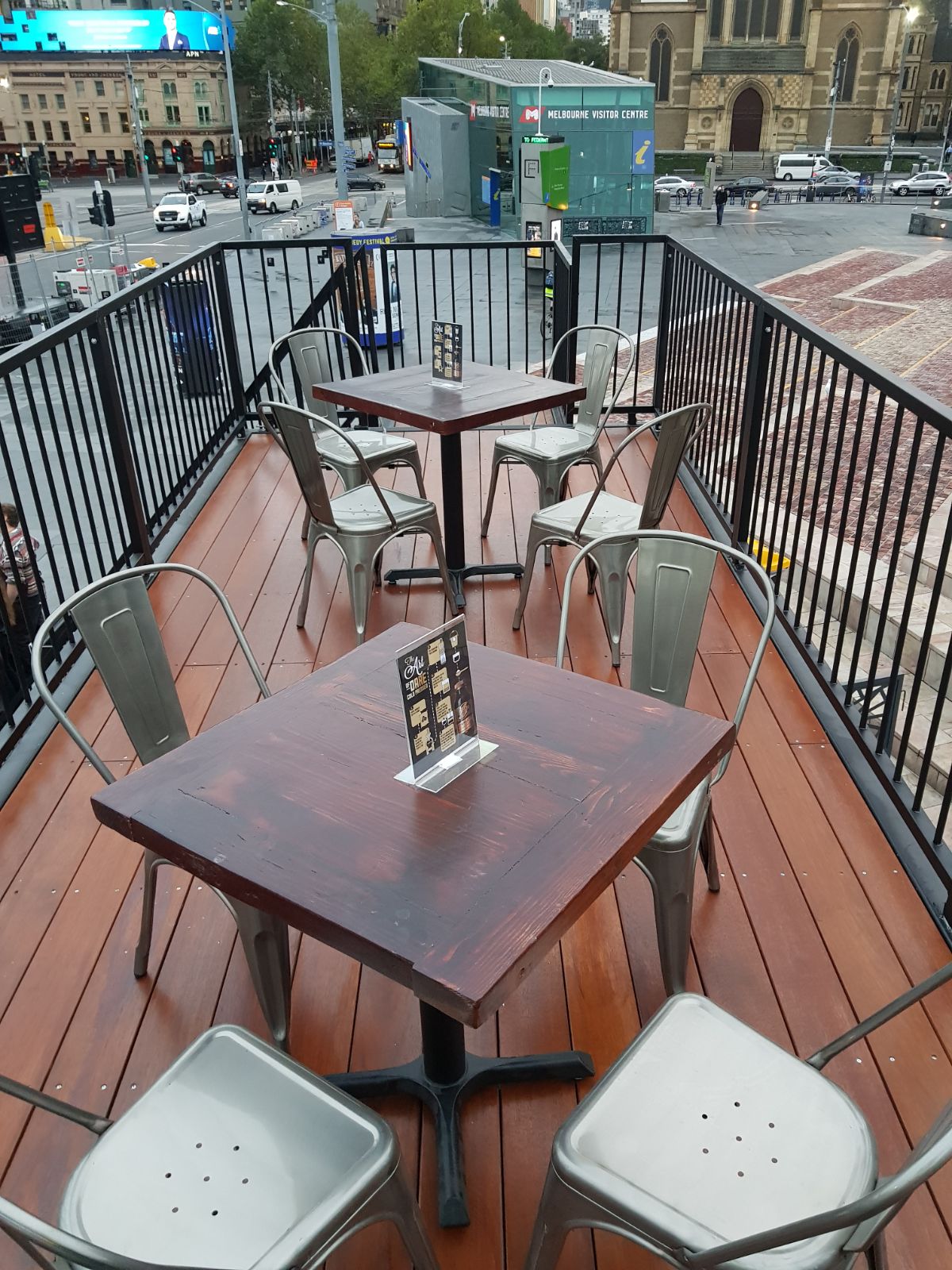 AIIMS - Digital Toolbox (event container)
AIIMS wanted to set up an open forum for trades to come and discuss how they could improve their online presence. They came to WOTBOX looking for a unique and efficient container solution to bring their 'Digital Toolbox' concept to reality. Customising our Box Bar 20 event container worked perfectly by providing an effective consultation space with large customised signage acting as a billboard to grab attention from the busy traffic flow.
Take a look at their website: http://digitaltoolbox.sydney/
Hennessy Coffee (retail cafe container)
Working with Hennessy Coffee, we produced a simple 10ft converted shipping container with stainless steel counters and power distribution for their coffee machines.
Based on this we are developing a retail solution for their wider client base across New South Wales and into Queensland.
Mobile skincare clinic (event container)
This converted shipping container started life as a standard box but now unfolds to triple the size, providing three skin examination rooms, entrance and waiting area. It is also fully air conditioned, with hot and cold water, and can be shipped around Australia.
Jagermeister (event container)
Front Awning, Rear Shelving, graphics and paint